SARAPIQUÍ RIVER
---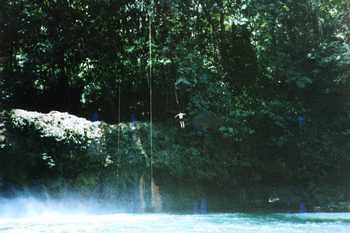 Seventy kilometers from San Carlos or Heredia, Puerto Viejo was, until a few years ago, the end of the road, whence one traveled onward only by light cargo boat on the Sarapiquí River, toward the San Juan River and Barra del Colorado on the Caribbean. Before peace broke out in Nicaragua, much of this area was effectively off limits to outsiders; but it has a colorful history as the fluvial highway to the interior used by William Walker and other adventurers and filibusterers of the last century.
A road extension now provides a way through to the south and east though you might still be able to negotiate your way aboard a river boat and make a round trip back to San José via the Tortuguero reserve and Limón. Patience and a flexible schedule would be absolute requirements for such a journey, as floods and fancy play havoc with promised departures. A surer way to float the river is on a rafting excursion organized in San José, or an inclusive trip along the Sarapiquí to Tortuguero.
A good road heads southeast around Barva Volcano. Much of the land to both sides is already cleared in a rather untidy fashion. Cattle are grazing, and corn is growing. You see signs at intermittent mud tracks that lead to cluster of shacks, announcing that so-and-so many farmers have benefitted from a distribution of land. At one point along the road, there is an outpost of the Comando Atlántico del Batallón Relampago (Atlantic Commando of the Lightning Battalion), in helmets and camouflage fatigues, ready to control any subversive activities in this strategic area. Pinch yourself, and remember that these are not soldiers - more blurring of the distinction between army and civil guard.