ARENAL VOLCANO
---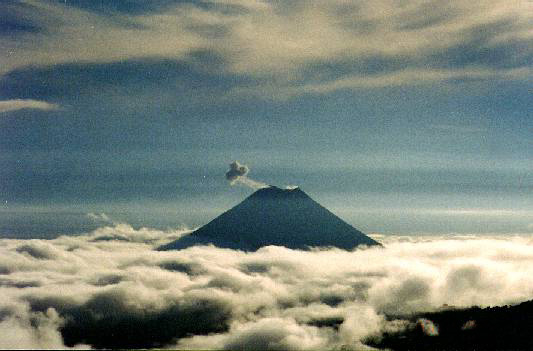 Mount Arenal (1,633 meters), which overlooks much of the San Carlos plain and the northern Pacific lowlands, has the distinction of being the volcano in Costa Rica that most looks like a volcano, with its characteristic conical shape. It also acts like one, having erupted spectacularly in 1968 and spewed ashes over a wide area.
And it hasn't stopped since. On most nights, clouds of iridescent gas cling to the summit. The earth rumbles, and boulders the size of a house explode a thousand feet into the air, to a resounding orchestral accompaniment of pops and crackles and booms, and arc and fall a thousand feet back to the crater, to bounce and shatter their way dawn. Lava in red and orange and yellow spews and slithers along the slopes.
Nobody in his right mind climbs Arenal. Several people who have attempted to do so in recent years, including at least one tourist, have been killed. But there is no peril in observing the fireworks from a safe vantage point in the valley below, or even hiking on the lower part of the slopes.
Several lodges in Fortuna or closer to Arenal offer safe ringside seats, with a view from the porch of your room and across an intervening river valley to the nighttime show; others sponsor day or night excursions to favorite lookout points. Just make sure before you go that recent activity has been reported, and that the weather has been clear.
About 60 kilometers from San Carlos, the road drops to beautiful, mountain-girt Lake Arenal crossing the earthen dam that separates the lake from its natural drainage, the Arenal River.
You will probably have come to Fortuna to get a closer look at Arenal volcano, but while you're here, numerous other adventures are available within easy reach of your hotel base. The most distant is Caño Negro Reserve, about an hour's drive north. Other easily reached destinations are the Venado caves, just north of Lake Arenal; Lake Arenal itself, for fishing (but there are few points where you can get right down to the water); and the surrounding countryside for horseback riding and walking and birding. With some guidance, you can set out by foot for Monteverde, about 20 kilometers and several mountain ridges away.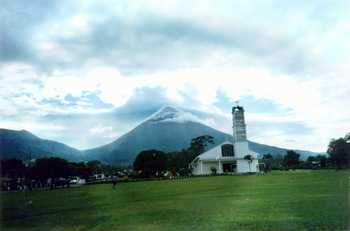 The Fortuna River Falls (Catarata Río Fortuna) are about 5.5 kilometers from town, from a turn from the main road by the church. Follow the washboard road for 1.4 kilometers through rolling pastures, then turn right a and continue another 4 kilometers. If you reach a bridge on the first road, you've gone too far. A short path leads to a viewpoint from which you can appreciate a narrow chute that plunges from the forest into the valley below. It would be a long walk out this way, but it makes for a pleasant horseback excursion or motoring detour.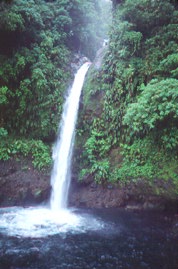 Tabacón, 12 kilometers past Fortuna, where the road drops into a lush river valley, is the site of several hot springs gushing out from near the base of Arenal volcano.